Mama Bear has a dream of success – what does that mean for the family? Let Matȟó Waúŋšila Thiwáhe (the Compassionate Bear Family, a.k.a. the Berenstain Bears) help you with your Lakota language study.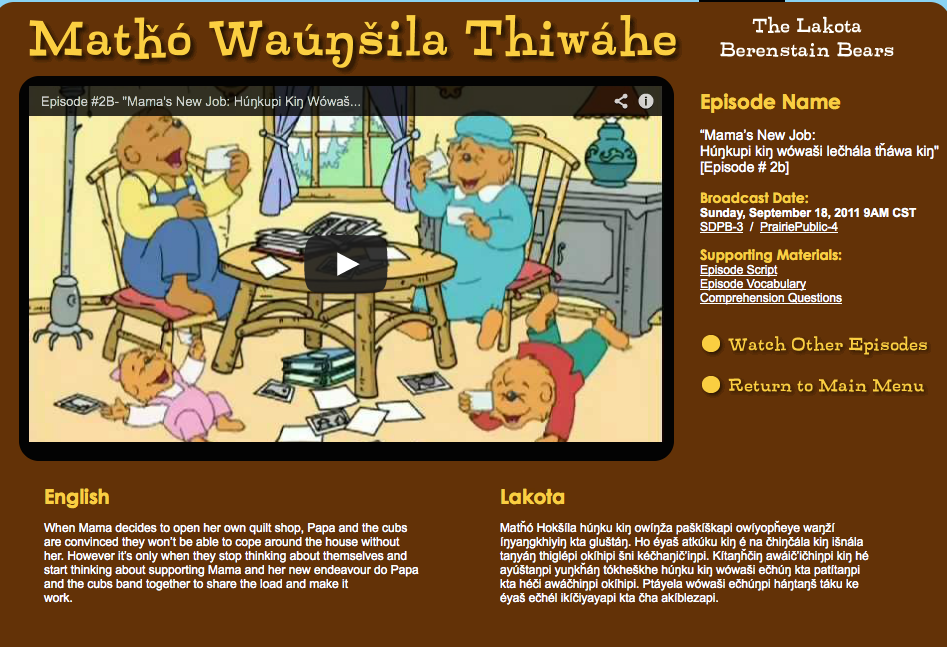 When Mama decides to open her own quilt shop, Papa and the cubs are convinced they won't be able to cope around the house without her. However it's only when they stop thinking about themselves and start thinking about supporting Mama and her new endeavor do Papa and the cubs band together to share the load and make it
work.
Each Matȟó Waúŋšila Thiwáhe episode comes with free extras for download: a complete script in Lakota, a vocabulary sheet with English translations, and comprehension questions (in Lakota) to check your understanding of the action.
Matȟó Waúŋšila Thiwáhe is a co-production of the Standing Rock Sioux Tribe, Lakota Language Consortium, Berenstain Enterprises and Nelvana Limited. Episodes were first broadcast in 2011 on Prairie Public Television.