November winds are blowing! Let Matȟó Waúŋšila Thiwáhe (the Compassionate Bear Family, a.k.a. the Berenstain Bears) help you with your Lakota language study on these long cold evenings.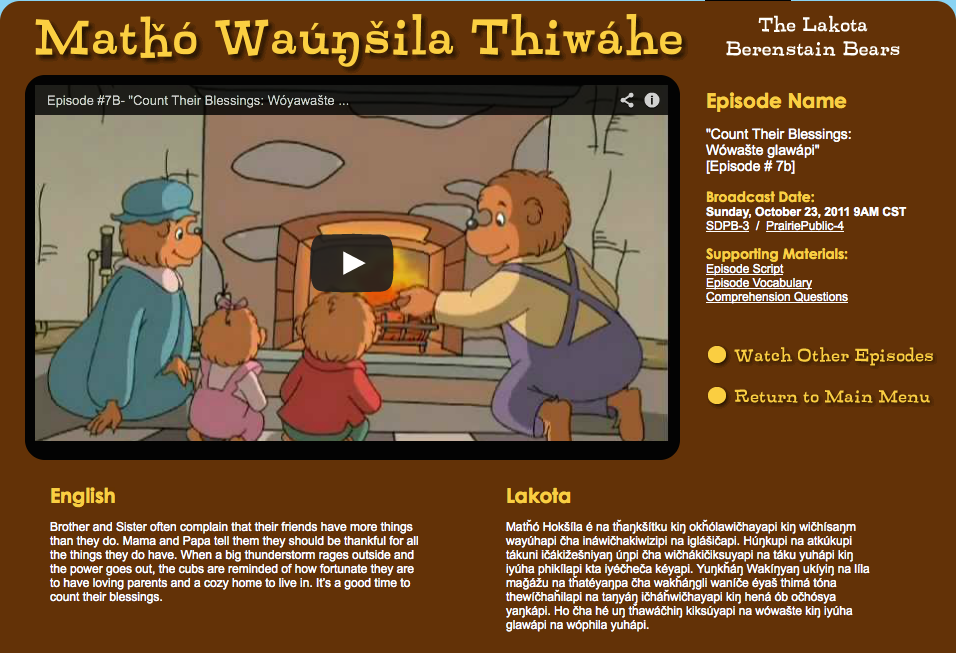 Brother and Sister often complain that their friends have more things than they do. Mama and Papa tell them they should be thankful for all
 the things they do have. When a big thunderstorm rages outside and the power goes out, the cubs are reminded of how fortunate they are to have loving parents and a cozy home to live in. It's a good time to
 count their blessings.
Each Matȟó Waúŋšila Thiwáhe episode comes with free extras for download: a complete script in Lakota, a vocabulary sheet with English translations, and comprehension questions (in Lakota) to check your understanding of the action.
Matȟó Waúŋšila Thiwáhe is a co-production of the Standing Rock Sioux Tribe, Lakota Language Consortium, Berenstain Enterprises and Nelvana Limited. Episodes were first broadcast in 2011 on Prairie Public Television.