When is a puppy not so cute? Let Matȟó Waúŋšila Thiwáhe (the Compassionate Bear Family, a.k.a. the Berenstain Bears) help you with your Lakota language study.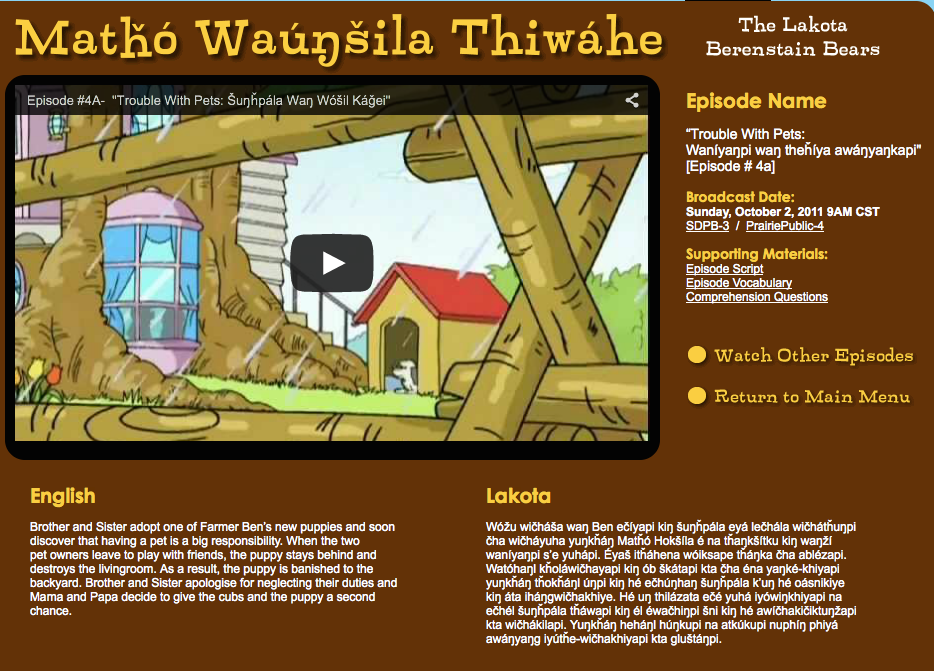 Brother and Sister adopt one of Farmer Ben's new puppies and soon discover that having a pet is a big responsibility. When the two
 pet owners leave to play with friends, the puppy stays behind and destroys the living room. As a result, the puppy is banished to the
 backyard. Brother and Sister apologize for neglecting their duties and Mama and Papa decide to give the cubs and the puppy a second chance.
Each Matȟó Waúŋšila Thiwáhe episode comes with free extras for download: a complete script in Lakota, a vocabulary sheet with English translations, and comprehension questions (in Lakota) to check your understanding of the action.
Matȟó Waúŋšila Thiwáhe is a co-production of the Standing Rock Sioux Tribe, Lakota Language Consortium, Berenstain Enterprises and Nelvana Limited. Episodes were first broadcast in 2011 on Prairie Public Television.