Mark June 1-19, 2015 on your calendar – the next Lakota Summer Institute is getting underway!
Registration is now open online. Start your registration today!
Join the Lakota community event that gets to the heart of the culture – the language.
---
If you need to mail in your registration, just print out this document:  2015 LSI paper Registration Form and mail to
Sunshine Carlow, SRST Education Manager
Agency Ave., PO Box D
Fort Yates, ND 58538
Phone : (701) 854-8583     Fax: (701) 854-2175
We're Bringing Another Advance …
LSI leaps forward again with the introduction of the Lakota Language Handbook – a comprehensive grammar reference that makes the formidable Lakota system accessible and above all, learnable by anyone – it's not just for teachers or linguists.

The Handbook is the final reference text in the language education infrastructure envisioned by the Lakota Language Consortium's founders in 2004. What the New Lakota Dictionary began, the Handbook completes. Material from the Handbook was incorporated into a 2014 LSI course, "Teaching Lakota Grammar," which consolidated earlier courses in Morphology and Syntax. In 2015, "Teaching Lakota Grammar" will be based entirely on the information and exercises in the Lakota Language Handbook, which will be the course textbook for all participants.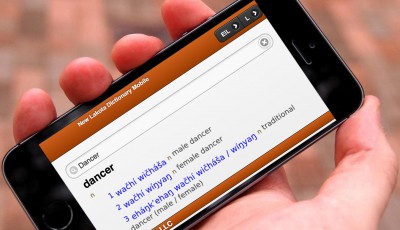 … Lakota Language Tech …
LSI is a co-venture of Standing Rock Sioux Tribe, Sitting Bull College and the Lakota Language Consortium – and in this past year, the Consortium has wired technology to handle the power of Lakota.
Lakota language learners who want to go the tech route to support their study can attend an LSI class about online study and resources for creating your own learning path. That class doesn't have a name yet, so keep an eye on this news feed for updates.
… and Lakota Human Connection
It's no secret that LSI has blossomed into an important community-focused event. Families and individuals arrive, hungry for a sense of who else out there is doing this crazy thing called learning Lakota. There's a palpable sense that something important is happening when strangers play silly games and speak complicated words together.
You can support your "Lakota thinking" with these sequenced classes:
Intensive Lakota for Beginners 1-3
Intensive Lakota for Upper-Beginners 1-3
Teaching Lakota 1-5 Methods
Intensive Lakota for Pre-Intermediates I-III
Intensive Lakota for Intermediates I-III
Reading I-II
Traditional Lakota Flute
Northern Plains Sign Language
Neologism Development 1-2
Intensive Lakota for Beginners I – III will be offered in the evenings as well, for non-teachers and families.  Thus this course series will be much more user-friendly because the examples and activities are geared towards the interests of a student in Lakota, rather than a linguist.
Once again, Ben Black Bear, Jr. will lead a class in Neologism Development, tracking ways Lakota has changed over time and how it can be consciously adapted to new situations like going to a hospital or playing basketball. Kevin Locke returns with Teaching Traditional Lakota Flute , now with a finished song/lesson book so participants who build and play their own Plains-style flute can practice at home. Dr. Lanny Real Bird will return with the Northern Plains Sign Language course he has taught for the past two LSIs.
Join us! CLICK HERE to begin your registration.
Sitting Bull College will open up its student housing again to provide inexpensive accommodations right on the SBC campus – the site of LSI. Other lodging is available at Prairie Knights Casino or area campgrounds.
SEE YOU IN JUNE!