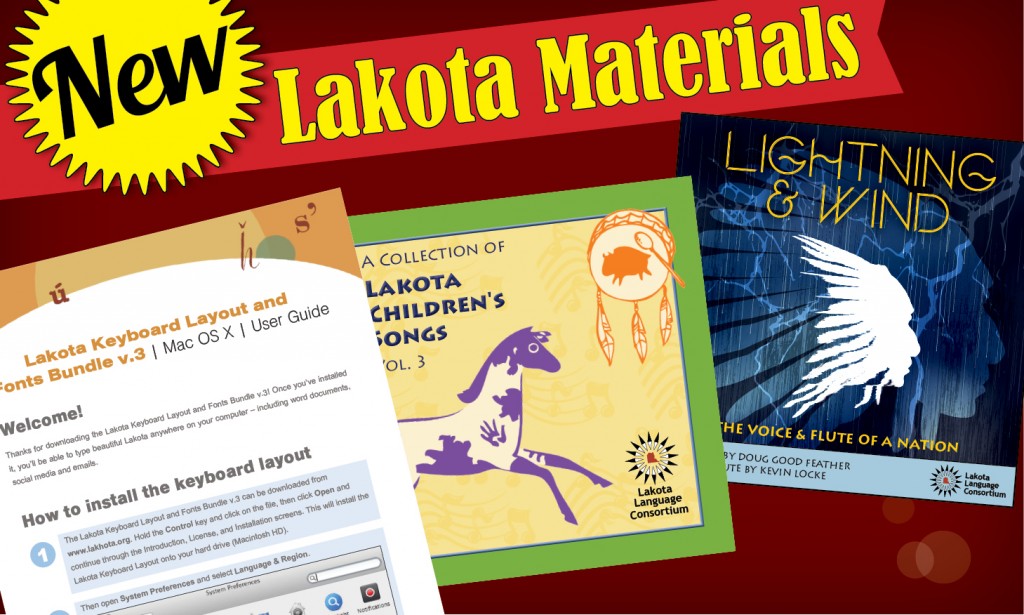 Háu mitákuyepi na mitȟákȟolapi,
With the holidays upon us, we want to extend season's greetings and wishes to you and your family – with some new Lakota language materials! The holidays are a perfect time to gather together, celebrate Lakota and encourage each other to keep learning. Here are some materials to support all ages of Lakota learners and speakers in your family:
Lakota Children's Songs – Vol. 3   For the young music-lover in your family:  this is our biggest collection of children's songs to date!

This album mixes nursery rhymes, lullabies, holiday music and traditional Lakota songs that will keep kids entertained for hours. Featuring Ring Around the Rosie, Rock-A-Bye Baby, Íŋkpata, Jingle Bells, and many more, this volume includes a 16-page booklet with song texts.Learn Lakota the fun way! The CD is available for purchase as a download at this link or at our bookstore(shipping beginning Dec. 18).

Lakota Keyboard Layout and Fonts Bundle, v.3 (for PC & Mac)

Waŋná Lakȟól'iya wanáȟtagyaya oyákihi ye!
Now you too can type Lakota anywhere on your computer – whether you're posting on Facebook, writing an email or typing a word document. This FREE software also includes 30 beautiful fonts so you can make your Lakota writing look the way you want it. Just visit the Software and Downloads page to download.

(This new software is a free alternative to previous keyboard software that we offered through Tavultesoft. If you have been using Tavultesoft, we recommend upgrading to this new software as we are no longer able to provide support for Tavultesoft users.)

Lightning & Wind – Kevin Locke and Douglas Good Feather

Five years in the making, this beautiful album comes straight from the heart of Lakota culture. This album celebrates love in all its joys and woes through a genre of song called wiílowaŋ ("serenades" or "songs of women").

Lightning & Wind brings together archival recordings of some of the last keepers of these songs with masterful flute work by Kevin Locke and contemporary vocals by Douglas Good Feather. Wiílowaŋ flourished in the pre-reservation period when they were taught as part of the art of traditional subsistence. Although the social context that gave rise to wiílowaŋ has disappeared, their entertainment value has persevered, and the emotions they sing of are timeless gifts of the Plains.

Available for download on CD Baby.

Lakȟótiya Wóglaka Po! – Speak Lakota! Levels 1-4 Gift Package

Show your support to your favorite Lakota learners by gifting them a set of Speak Lakota! Level 1 through 4 textbooks and audio CDs (over a 40% discount from regular price)!

This exclusive gift pack can be found at our bookstore.
As always, we welcome your orders and questions by email, phone or Facebook and Twitter! Have a joyous holiday season and we'll see you in the new year!
Enter the code 'FREE' when checking out at the LLC Bookstore to receive free shipping on all your purchases!
If you're using Amazon to make your holiday purchases, consider using our Amazon Smile link, and a portion of your purchase will go towards supporting LLC!