News!  Matȟó Waúŋšila Thiwáhe will be broadcast on KVCR / FNX (First Nations Experience) television on Saturdays and Sundays starting on March 7, 2015. Times are 10:30 am EST or 7:30 am PST. Channels are VerizonFios (channel 471), DirecTV (channel 24.2), and in the greater Los Angeles area on channel 24.2.
What's your talent? Do you let it out to play? Let Matȟó Waúŋšila Thiwáhe (the Compassionate Bear Family, a.k.a. the Berenstain Bears) help you with your Lakota language study.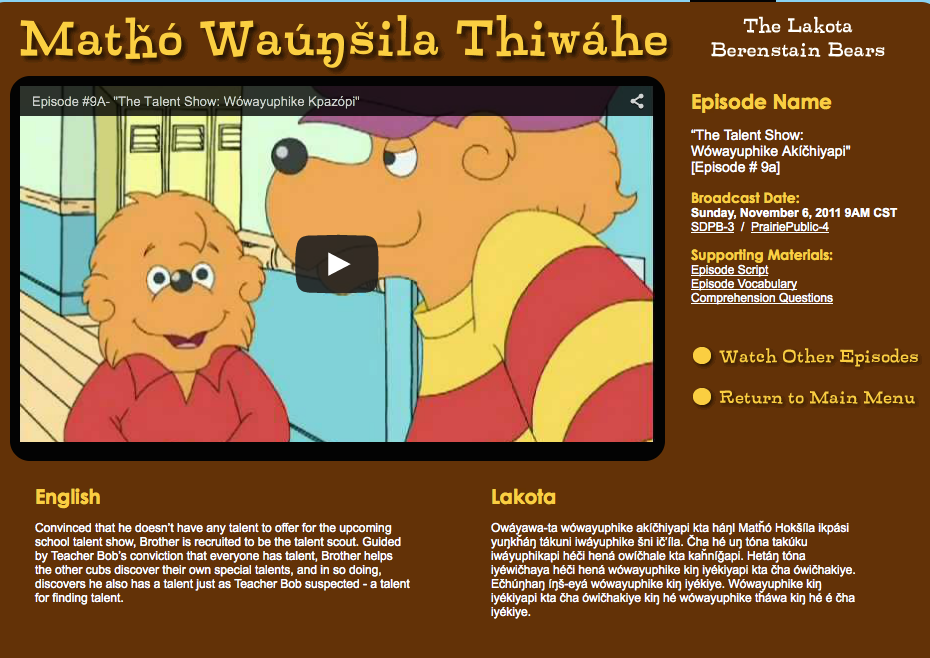 Convinced that he doesn't have any talent to offer for the upcoming school talent show, Brother is recruited to be the talent scout. Guided
 by Teacher Bob's conviction that everyone has talent, Brother helps the other cubs discover their own special talents, and in so doing, 
discovers he also has a talent just as Teacher Bob suspected – a talent for finding talent.
Each Matȟó Waúŋšila Thiwáhe episode comes with free extras for download: a complete script in Lakota, a vocabulary sheet with English translations, and comprehension questions (in Lakota) to check your understanding of the action.
Matȟó Waúŋšila Thiwáhe is a co-production of the Standing Rock Sioux Tribe, Lakota Language Consortium, Berenstain Enterprises and Nelvana Limited. Episodes were first broadcast in 2011 on Prairie Public Television.