Let Matȟó Waúŋšila Thiwáhe (the Compassionate Bear Family, a.k.a. the Berenstain Bears) help you with your Lakota language study on these long cold evenings.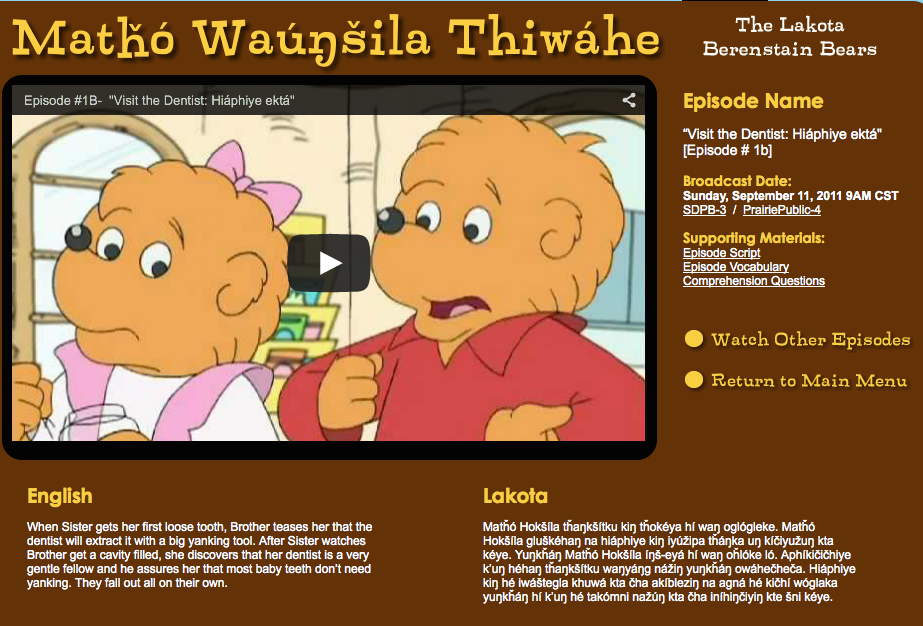 When Sister gets her first loose tooth, Brother teases her that the dentist will extract it with a big yanking tool. After Sister watches 
Brother get a cavity filled, she discovers that her dentist is a very gentle fellow and he assures her that most baby teeth don't need yanking. They fall out all on their own.
Each Matȟó Waúŋšila Thiwáhe episode comes with free extras for download: a complete script in Lakota, a vocabulary sheet with English translations, and comprehension questions (in Lakota) to check your understanding of the action.
Matȟó Waúŋšila Thiwáhe is a co-production of the Standing Rock Sioux Tribe, Lakota Language Consortium, Berenstain Enterprises and Nelvana Limited. Episodes were first broadcast in 2011 on Prairie Public Television.