Are you a poet but don't know it?  Here's your chance to build your poetry skills and take your Lakota proficiency to a whole new level!
During this 2016 Lakota Summer Institute, fluent speakers of Lakota will have the the opportunity to participate in the first ever Lakota poetry course. Ben Black Bear, a first-language Lakota speaker, and Lawrence Diggs, South Dakota Humanities Scholar, will co-teach the course the third week of LSI.
During the workshop, participants will explore and create new Lakota poetry styles, work on poetry reading and public speaking skills, including body language and experience that helps one communicate poetry.
When asked about the importance of such a course for the Lakota language, Diggs commented,
"The depth and breadth of life experiences demand expression in many forms. Poetry offers us an opportunity to dance with a language. There are many poetry styles. The beauty of poetry is that you can create your own styles. […] We will be exploring and discovering new ways the language can be beautiful when we play with the sounds, nuanced meanings of words and unique Lakota expressions. We will show you how to use poetry to encourage vocabulary expansion and deepen understanding of words and expressions. Writing poetry in a language takes you from being a craftsperson to an artisan in that language. […]

We will work hard and fast, but the most important thing is we want to have fun. You will learn to love Lakota language even more by experiencing how much more you can express in Lakota with poetry.  You will leave equipped with tools to make your Lakota teaching experience more exciting and fun for you and your students."
Black Bear and Diggs will both contribute a different dynamic to the new course. Ben Black Bear brings his expertise in Lakota language. You may know him as the voice of "Papa Bear" in Matȟó Waúŋšila Thiwáhe,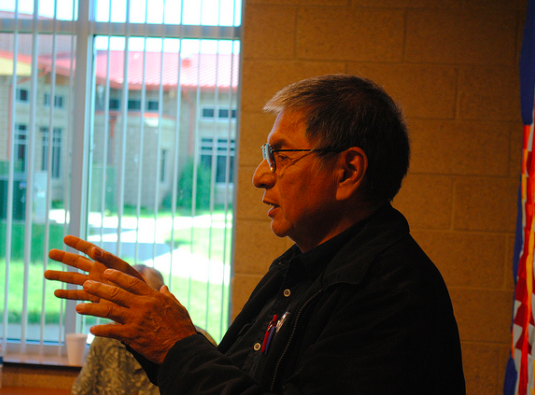 the Lakota-language Berenstain Bears cartoon, but Mr. Black Bear is also a teacher of Lakota Studies and Lakota language at St. Francis Mission School in St. Francis, SD. With decades of Lakota teaching and language experience, at LSI and elsewhere, Mr. Black Bear's teaching style is sure to make every participant comfortable and confident in their poetry abilities.
Lawrence Diggs shares his cumulated knowledge of poetry from a lifetime of dedication to the arts.  Diggs has traveled to every continent except the Antarctic and addresses his global experiences through his art, such as poetry (in English and Japanese), photography, animation, and ceramics. He aims to use these media to encourage communication on difficult topics. His works are featured in the HGS Gallery in Luvern, MN and he serves as a member of Northeast Artist Network.
We're looking forward to seeing this duo at work! "Creating new literary styles in a language is a sure signal that a language is not dead. Who knows, we may be creating a whole new tradition in the Lakota language. Creating new traditions is a sure signal that a culture is not dead. This bud can blossom. This blossom can fruit," explained Diggs.