With every consecutive year, we have more and more attendees at LSI. We spoke with participants during week 2 & 3 to bring you a variety of impressions about this year's training.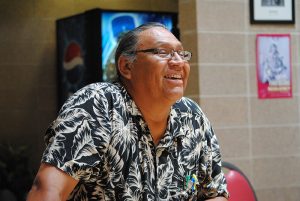 Manny Iron Hawk – Manny, an LSI veteran, has been attending the Institute every year since 2008! He used to teach grades 7-12 at a school in Eagle Butte and still gives presentations today. Manny admitted that when he first heard about the Institute, he was suspicious: "I was skeptical, but I wanted to come with an open mind, to come and see for myself and to participate in the classes."
He shares that since that year he's been eager to return every summer.
"I found out that this could really have impact with kids, especially all the Methods classes with engaging actives and games, as well as the spelling system and diacritics – I find it easier to read. I also come here to meet other language speakers, to speak, to socialize. That's the way to keep our language going."
Teachers like Manny are the heart & soul of LSI. "I tell young people interested in the language to come here and to check it out for themselves," he said.
---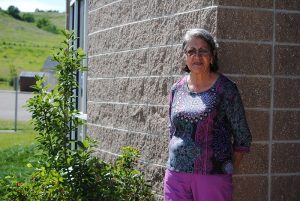 Barb Dupris – Barb is an 8th grade Lakota language & culture teacher at Eagle Butte Jr. High. This is Barb's third, non-consecutive year at LSI; she was previously at the Institute in 2010 and 2015. "In 2010, I took my very first phonology class. That was very helpful because Lakota was my first language, but I got away from it for a while and wasn't using it. The class reminded me about the sounds of the language."
Barb shared that reading and writing were one of the strongest points about the Institute, "Fluent speakers have been speaking their whole life but don't necessarily know how to read and write. Now I can read and write and I am getting more and more comfortable."
Her favorite classes this year included Ethnobotany and Teaching Methods with Kim Campbell. "Kim is very knowledgeable," Barb said, "There are a lot of activities and exercises that go along with the book. There is a whole different, engaging idea of teaching, of building up material and doing final review exercises."
Barb also enjoyed the 3-week Ethnobotany course that was offered this year. "I've lived here my whole life, but I didn't know what half of those plants were or how to recognize them."  In week 3, Ethnobotany students did daily hands-on activities using the plants they gathered and picked throughout the week. Activities included making shampoo, lip balm, massage oil, and cooking a meal for a potluck at the end of the week. Check out this post for more information.
---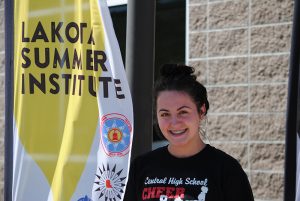 Sammi Seidel – Sami is a lively high school student from Rapid City who came to LSI for the first time this year! She first heard about the Institute from her sister, Savannah, who attended LSI last year and has since been at a few of LLC's Lakota Language Weekend events in South Dakota. Sammi has been taking a Lakota language class in Rapid every Tuesday, but she says that being at LSI for all 3 weeks has really improved her language skills.
"It gives me a better opportunity to learn the language. I like how everybody gets involved. We get together to do activities and I feel very welcome here."
Sammi also shared that she felt very supported by her teachers in class, "I like that the teachers will teach the whole class but also help you one-on-one. They really reach out to every student and follow their progress."
When we asked Sammi if she was planning on returning next year she said, "Definitely. It's just a great experience and I'm so lucky to be here. If you want to learn Lakota, I would recommend coming here."