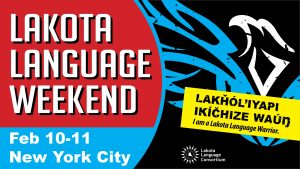 Háu mitákuyepi, New York City —
the Lakota Language Weekend is heading your way!!
Sat-Sun, Feb 10-11, 9 am-5 pm
New York University
We're helping fuel the Lakota Language Revitalization movement by bringing these dynamic immersion weekends to communities across the USA — from reservations in the Great Plains, to cities like Chicago, LA, Denver, Minneapolis — and now, the Big Apple! Think of it as a crash course in Lakota language and culture, taught by a dream team of Lakota instructors.
YOU'LL LEARN:
• The Lakota kinship system
• How to introduce yourself
• How to greet your relatives
• Basic phrases for the world around you
• How to build basic sentences
Read more and Register HERE!

LAKOTA LANGUAGE CONSORTIUM is a non-profit organization of linguists, Native American leaders and volunteers working to revitalize the Lakota Language.