Lakȟóta wičháša waŋ okínihaŋ čha iȟpéya uŋkíyayape ló. Wičháša kiŋ Leonard Little Finger ečíyapi. Líla theȟíyakel oíyokišiče ló. Líla iyóuŋkšičapi.
We honor the memory of Leonard Little Finger, esteemed Lakota elder and one of our founding board members, who passed away on April 8, 2017 in Pine Ridge.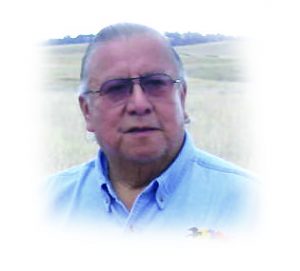 It's hard to imagine the Lakota Language Consortium today without his early support and encouragement.
In the 1950s, Leonard was one of the first in his generation to leave the reservation for a better education, earning a B.S. from Utah State University. He returned to Pine Ridge to work for the Indian Health Service Hospital, eventually becoming CEO. After retiring from IHS, he received an A.D. in Lakota Studies from Oglala Lakota College at the age of 56, becoming a State certified Lakota Language Instructor.
In the 1990's one of Leonard's many initiatives was an organic gardening project that brought German students to Pine Ridge each summer to work alongside local tribal members.
Leonard also partnered on several early language projects in the '90s, which evolved into an integrated vision for teaching Lakota that informs our work today. When the Lakota Language Consortium was established in 2005, Leonard was a natural fit for our first board, where he served for  3/12 years.
Leonard later helped establish the Lakota Language Consortium and its early projects, including the memorable 2006 visit to Pine Ridge by legendary German rock star Peter Maffay to help bring attention to the project.
Leonard Little Fingers' passing is another reminder of how fleeting the language is, and the crisis we're facing. We can't take for granted any of the speakers who are still around.
The elders truly did their best to pass their torch onto the next generation. Now it's up to all of us to move it forward.
Wičháša kiŋ lé líla wawókiyiŋ na Lakȟól'iyapi kiŋ glukínipi kiŋ él íškiŋčiye ló. Tȟokátakiya kiksúya uŋk'úŋpi kte ló.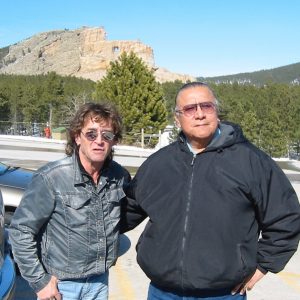 German rock star Peter Maffay with Leonard Little Finger