An effort to revive the Lakota language comes to Manhattan this weekend
 Arun Venugopal | Gothamist | February 22, 2023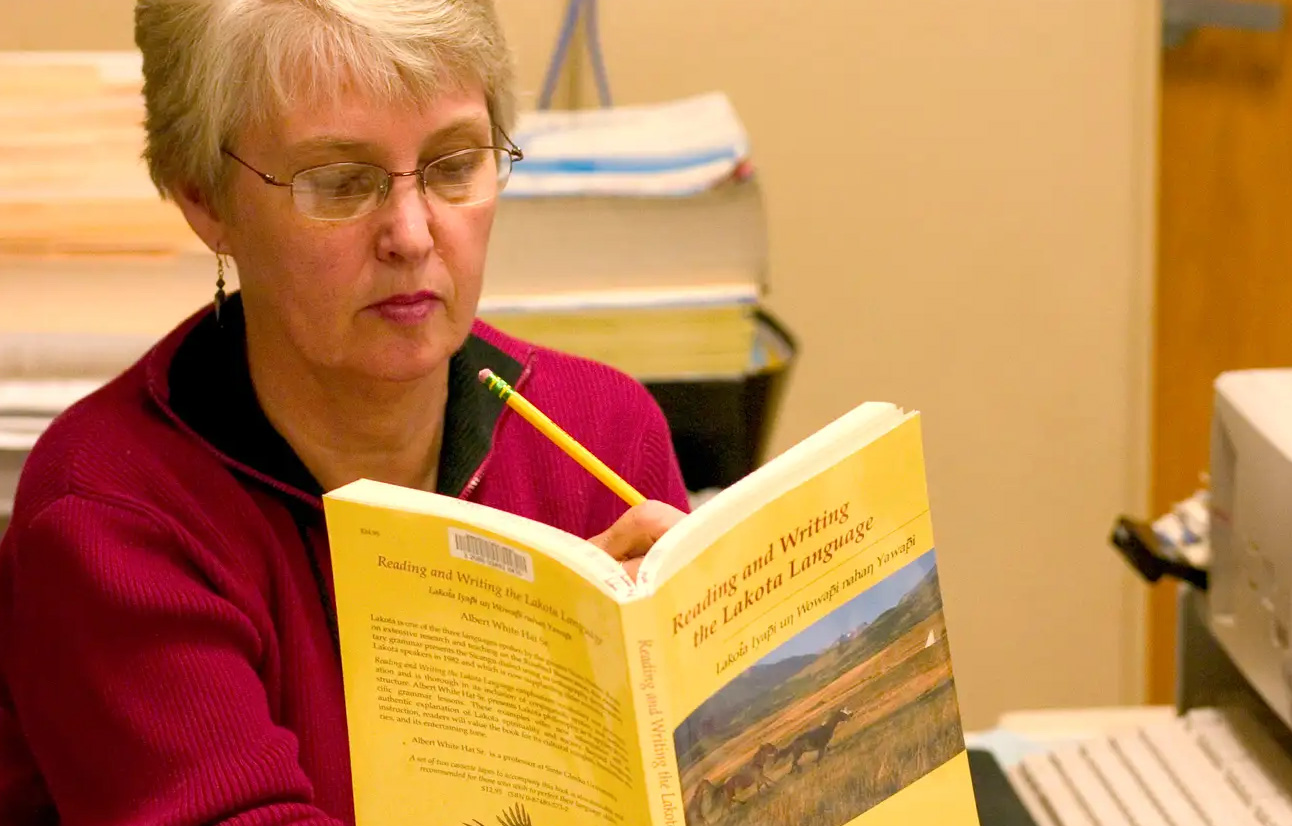 A woman reads from a Lakota Language textbook.
New Yorkers rescue all manner of things – pets, people and lost things. This weekend, they have an opportunity to do something exceedingly rare: Help rescue a language.
The language is Lakota, spoken by the Native American people, and it is "dangerously close to extinction," according to the Endangered Languages Project. It estimates just 2,000 people speak Lakota as a first language, primarily on reservations in North and South Dakota. That's about 2% of the total population of Lakota people.
An effort in New York to revive the language includes a Lakota Language Weekend, Saturday and Sunday at the nonprofit American Indian Community House, 39 Eldridge St. in Manhattan. The course is described by the Lakota Language Consortium as a "deep dive" into the Lakota language, as taught by experienced instructors.
There is some urgency to the work.
Many living speakers, Alex FireThunder, the deputy director of the Lakota Language Consortium, told Gothamist, are now in their 80s.
"Especially with the pandemic, we lost a lot of elders," said FireThunder, who was raised upstate and now teaches the language in South Dakota. "The language has been in rapid decline because of colonialism, and so the work we're doing in itself is a form of social justice."
According to the Language Conservancy, 2,900 of the estimated 7,000 languages spoken across the world are now endangered. In 2019, the United Nations declared 2022-2032 the International Decade of Indigenous Languages.
"Many languages are today in danger of falling into disuse," reads a 2021 report by UNESCO. "People's ability and freedom to use their chosen language is essential for human dignity, peaceful co-existence, reciprocal action, and for the general wellbeing and sustainable development of society at large."
Wil Meya, the CEO of the Language Consortium, estimated several dozen Lakota speakers live in New York City, making it one of over 600 languages in the five boroughs.
Efforts to revive languages like Lakota, said Meya, increasingly involved digital technology. For instance, his organization re-released an app that with more than 40,000 Lakota words serves as "the largest Native American dictionary in the world."
"It's instrumental in the language revitalization movement. Young people are using it all the time," said Meya. "They're saying it's like having grandma or grandpa in their pocket."