The Lakota Language Consortium
Established as an educational non-profit comprised of Lakota Elders and Native leaders in 2004, the Lakota Language Consortium achieves its mission by providing materials, training, and support for Lakota students and teachers in Lakota country. Making high-quality Lakota language media available to schools and colleges so they can create educational experiences and materials for future generations.
Finding Solutions
Serving Lakota schools and adult learners in the community is our primary goal.
Support
Since 2004, LLC has been a leader in Lakota language revitalization. As an organization, we are proud to have developed the first-ever professionally designed Lakota language materials for school children. Join the 53 schools across North and South Dakota participating in this work. Help us expand the Vision and Mission that has already positively impacted over 20,000 Lakota children.
Please reach out to us here. 
OR
If you'd like to support these programs
The Postive Impact Being Made

History Of the Lakota Language Consortium
The Lakota Language Consortium began in 2002 to address concerns of Lakota language speakers and teachers concerned about the lack of language teaching happening in South Dakota. Community leaders Leonard Little Finger and Robert Two Crow, and others called on the Oglala National Education Coalition to create a solution to address language loss on Pine Ridge and surrounding areas.
The result was a cooperative plan called the Lakota Language Consortium that would partner 18 schools with Indiana University to develop a curriculum. This effort was supported by the Oglala Sioux Tribe.  Unfortunately, the original project never fully materialized. To continue the idea, Leonard Little Finger joined with Johnson Holy Rock, Richard Broken Nose, Wil Meya, Jan Ullrich, and David Rood to form a nonprofit organization that would develop curriculum and resources as the original plan entailed.
By the end of 2004, the organization had developed the Level 1 Textbook and had begun working with three schools on Pine Ridge. By 2005, it had finished the Level 2 Textbook and had expanded the work to schools across Pine Ridge and Cheyenne River. Since then, there have been many milestones in the effort.
Here are the highlights:
• 1st Summer Institute in 2007
• New Lakota Dictionary in 2008
• Level 3 Textbook in 2010
• Lakota Berenstain Bear Project in 2011
• Level 4 Textbook in 2012
• Level 5 Textbook 2014
• Rising Voices documentary in 2015
• Lakota Grammar Handbook in 2016
• Owóksape language app and Virtual Language Institutes in 2020
and many more!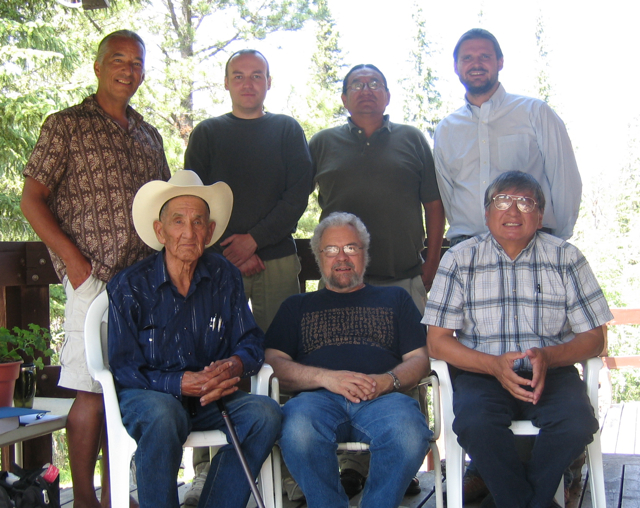 2008 LLC Board
Learn More About Our
Lakota-led Board Of Directors 
Materials In The Bookstore
Learning Opportunities
View Upcoming Live Events 
Celebrating The Work – Awards & Honors
While LLC remains focused on preventing Language Loss it's also important to acknowledge the milestones along this journey. Below you will find a timeline of accomplishments that LLC has achieved since its inception in 2004. We've also included awards, honors, and press reviews of the work that is being done.
The Consortium's achievements include:
Publication of 5 installments of K-16 Textbooks, audio CDs, teacher training, teaching materials, and assessment testing. LLC's sequenced language education materials impact over 20,000 students and 300 teachers in 53 schools.

Over 100 published titles in Lakota

Over 100,000 piece of material distributed

Over $1 million worth of materials donated

Robust materials at

the LLC Bookstore

2 Lakota Summer Institutes
Year
Partnerships
Summer Institutes
Major Products and Publications
Other Activities
2004
Oglala Sioux Tribe
Lakota Level 1 Textbook & Audio CD

2 Children's Books: Prairie Dog Goes to School & The Buffalo and the Boat

2005
Cheyenne River Sioux Tribe

Rosebud Sioux Tribe

Lakota Level 2 Textbook & Audio CD
2006
Standing Rock Sioux Tribe
Ken Hale Prize for Grassroots Linguistic Preservation & Revitalization Work
2007
Lakota Summer Institute (1st Annual)
Lakota Assessment Testing

Lakota Font Bundle CD

Animated Film: The Legend of the End of the World

2008
Lakota Summer Institute (2nd Annual)
New Lakota Dictionary, 1st Edition

New Lakota Dictionary Online

Lakota Learner's Forum

2009
Lower Brule Sioux Tribe
Lakota Summer Institute (3rd Annual)
Lakota Vol. 1 Children's Song CD
Bronze Medal: Independent Publishers Association for Excellence in Reference Publishing for New Lakota Dictionary
2010
Lakota Summer Institute (4thAnnual)
Lakota Level 3 Textbook & Audio CD
2011
Lakota Summer Institute (5th Annual)
Lakota Berenstain Bears 20-Episode Cartoons

Lakota Language Education Action Program (LLEAP)

New Lakota Dictionary, 2nd Edition

Rising Voices Development and Pre-Production
2012
Lakota Summer Institute (6th Annual)
Lakota Level 4 Textbook & Audio CD

Lakota Vol. 2 Children's Song CD

Lakota Play: Iktomi's Raccoon Hat

Rising Voices Principal Photography
2013
TLC & Crow Nation
Lakota Summer Institute (7th Annual)
Siouan-Caddoan Linguistic Conference
Rising Voices Principal Photography continues
2014
Lakota Summer Institute (8th Annual)
Lakota Level 5 Textbook & Audio CD

Ten-CD Lakota Audio Series for conversational Lakota

Lakota Play: Iktomi's New Wife


Lakota Flute Book


New Lakota Dictionary App

Rising Voices Principal Photography continues

Printing/Binding Equipment builds print-on-demand capacity

2015
Lakota Summer Institute (9th Annual)
Rising Voices Premiere on American Public Television (865 broadcasts nationwide)

Lakota Vocab Builder App

Lakota Mobile Keyboard

Lakota Alphabet Coloring Book

2016
Lakota Summer Institute (10th Annual)
Lakota Grammar Handbook

1 Lakota Children's Book: Do You Like to Dance?

2017
Cheyenne River Sioux Tribe
Lakota Summer Institute (11th Annual)
5 Lakota Children's Books: The Fox Who Saw His Own Shadow, Froggy, I Saw a Skunk!, Time to Eat!, & The Thunderbeings

Lakota Media Player App

Woman Walks Ahead (consulting)
2018
Oglala Sioux Tribe
University of North Dakota
Oglala Lakota College
Cheyenne River Sioux Tribe
Lakota Summer Institute North (1st Annual)

Lakota Summer Institute South (12th Annual)

Lakota Language Academy

Lakota Language Weekends

Lakota Level 4 Textbook (2nd Ed.)

Lakota Grammar Handbook (2nd Ed.)

Lakota Puzzle Book Vol. 1: Crossword and Wordsearch

Traditional Lakota Songs

New Lakota Dictionary Pro App

Owóksape

University of North Dakota Lakota Education Program

LOWI Lakota Immersion School

StoryCorps at Lakota Summer Institute North
2019
University of North Dakota
Oglala Lakota College
Lakota Language Academy (2nd Annual)
Lakota Summer Institute North (2nd Annual)
Lakota Summer Institute South (13th Annual)
Lakota Language Weekends
Lakota Turtle Goes To War Picture Book

Lakota Educational Video Series: Chief Bald Eagle Narrative, Johnson Holy Rock Narrative, New Lakota Dictionary.

Lakota Owoksape 1.4.0

2020
University of North Dakota
Oglala Lakota College
Rosebud Sioux Tribe
Virtual Lakota Language Academy (3rd Annual)
Virtual Lakota Summer Institute North (3rd Annual)
Virtual Lakota Summer Institute South (14th Annual)
Owoksape Teacher Portal

Lakota Meadowlark and the Rattlesnake