Resources for Teachers
Teach Lakota more effectively with textbooks, guides, and a variety of classroom teaching aids.
Are you an educator teaching Lakota in your classroom? Reach out by phone at (888) 525-6828 or by email at customersupport@lakhota.org to learn more about bulk pricing on classroom materials.
Lakhótiya Wóglaka Po! – Speak Lakota! Level 1 – 5 Textbooks feature lessons designed to increase in comfort and helps learners achieve Lakota language proficiency as they work through these lessons. While these textbooks are designed for the classroom they are also beneficial for language learners at any age.
The series features a detailed teacher's guide; which incorporates all major vocabulary variants, numerous lesson activities and games while contextualizing the vocabulary though images and illustrations.
The Level 1 Educational Posters are large poster-size reproductions of important pages from the Level 1 textbook. These posters help reinforce Level 1 vocabulary and can be used in association with instructional activities and games.
Also available is a list of basic instructions teachers can use with children in the classroom. It is important to use as little English in the classroom as possible. Classroom instructions will be easily picked up by children if they hear them regularly.
Classroom instructions (PDF, 0.06 MB)
The LLC Lakota Alphabet Strip is an important classroom visual aid, accurately presenting the Lakota alphabet for daily lessons and instruction. Like other LLC products, the alphabet strip contextualizes Lakota sounds and letters through memorable images and illustrations. The alphabet strip can be incorporated into regular Total Physical Response (TPR) teaching activities and is a useful reminder of Lakota linguistic structure. The alphabet strip is designed to be displayed as an upper-wall border. At over 30 feet, the strip easily covers two standard-size walls and can viewed from a distance.
Engage students in the language with a variety of activity books for all ages. These interactive activity books allow you to look at language from a different perspective. The coloring book is a great activity book for the children, while the word search is great for more advanced learners. A Teacher's Edition of the puzzle book is also available with answer keys.
Also available are a variety of classroom flash cards designed to be used alongside the Lakȟótiya Wóglaka Po! – Speak Lakota! textbooks. LLC language textbooks are designed around the implementation of Total Physical Response (TPR) teaching methods. The flashcards are used to introduce and help internalize vocabulary. Numerous instructional activities and games utilizing the flashcards are described in the textbook teacher's guide. The flash cards are full color, laminated, and large enough to be effective in a classroom
These alphabet flashcards can be used to teach the sounds and spelling of the language. Flashcard activities are lively and retain children's attention for a much longer time than working with a textbook alone.
Lakota alphabet flashcards (PDF, 0.04 MB)
You'll find an extensive series of original picture books that help learners to establish basic vocabulary and reinforce their knowledge of the language. Complete with original illustrations and detailed glossaries, these picture books are a vital tool for beginners and advanced learners alike!
Visit the LLC bookstore to browse our full selection of original picture books!
Visit the LLC YouTube channel to hear Lakota speakers read selected books.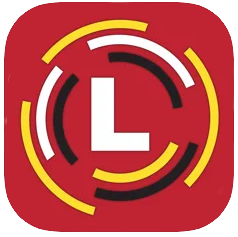 Owóksape (learning place) is an e-learning portal that you can access on your desktop or mobile devices. This tool is devoted to Lakȟótiyapi and provides over 100 sessions for you to progress through. This tool provides an individual's lesson based on learners' choices and progress. The interactive learning lessons incorporate reading, written and speaking systems. This gamified experience incorporates lessons found in the printed textbooks, audio series, grammar handbook, and during language weekends. Owóksape not only helps you improve your language skills but brings the language to daily lessons anywhere you are.
Are you an educator using Owóksape in your classroom?
New Lakota Dictionary App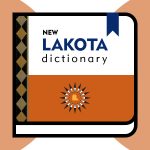 The New Lakota Dictionary (NLD) is the largest and most comprehensive Lakota Language dictionary currently available.  This user-friendly app allows you to search for words in English or Lakota and listen to the pronunciation of each word in both male and female voices. It is designed specifically with the learner in mind, providing numerous innovative features that help learners find words and use them correctly. 
Features Include:
41,838 Lakota Entries

12,809 English Reversals

Inflection charts show complete inflectional paradigm

Copy/Paste by word or line

Save favorites lists and navigate search history

Leave comments to improve future versions

Built-In keyboard for typing special characters

Lemmatizer searches for conjugated verbs and word forms

Over 400 native speakers involved in its development and review

Fun to use and explore

An excellent self-study tool!
*3rd Edition Mobile App Available now
*Desktop Update for Mac & PC coming in Spring 2023
New Lakota Dictionary is available on iOS and Android mobile devices. It can also be purchased for download on your Mac or PC from our bookstore.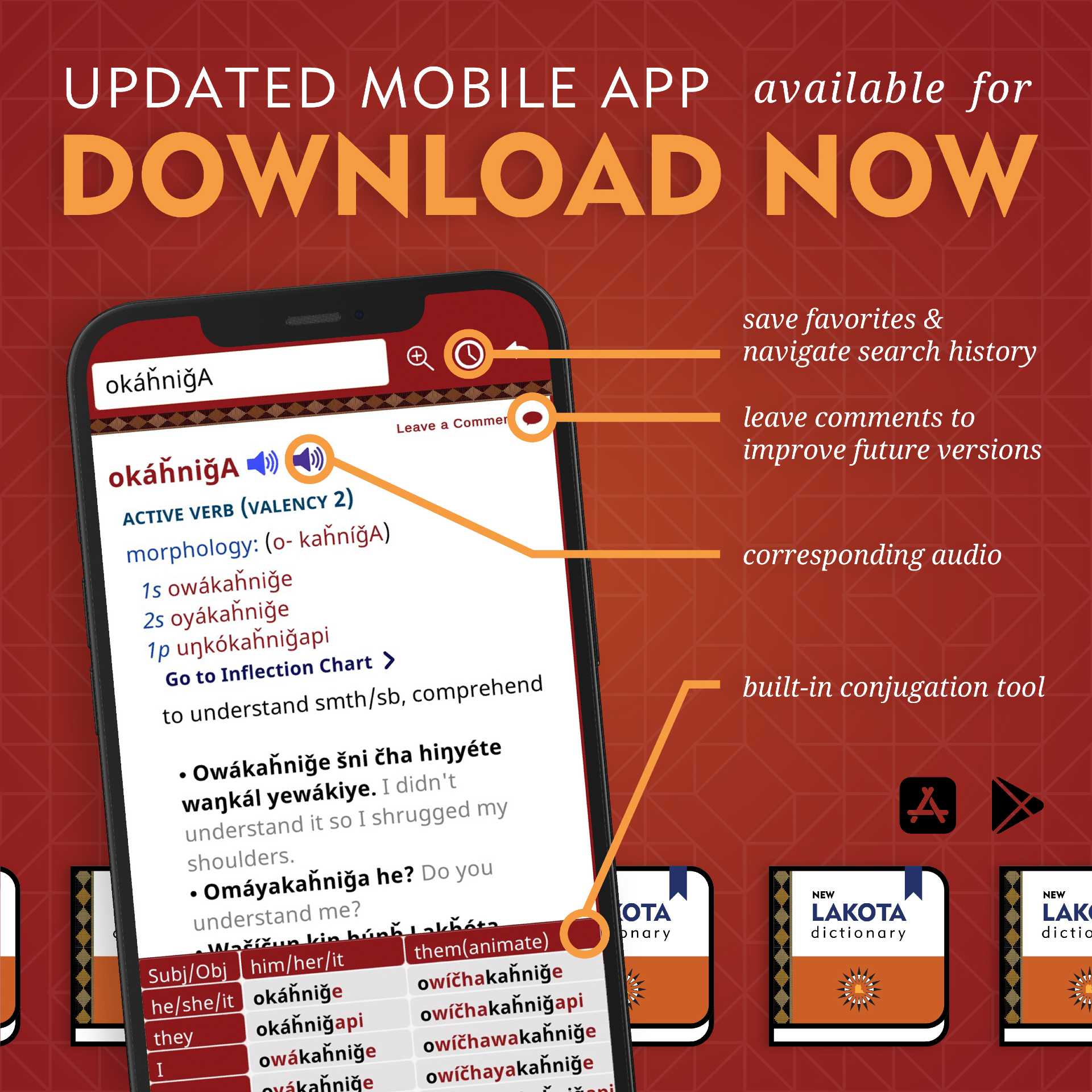 "The lemmatizer is one of the biggest advantages of the app when compared to the printed version of the NLD. Lakota is a highly agglutinating language. Affixes are added to words all the time, so unless you know the stem of the word with affixes, you won't be able to find it in the dictionary. The app does that for you. If you type in e.g. waŋwíčhablake the app will show you the entry waŋyáŋkA."

– Ben Black Bear, Jr., Leading Lakota language scholar from the Sičháŋǧu Oyáŋke (Rosebud Nation)
"This marvelous dictionary may help keep the number of (Lakota) speakers from falling. It gathers over 41,000 words and illustrates them with more than 50,000 sentences, usage notes and collocations."

– John McWhorter, New York Times
Lakota Keyboard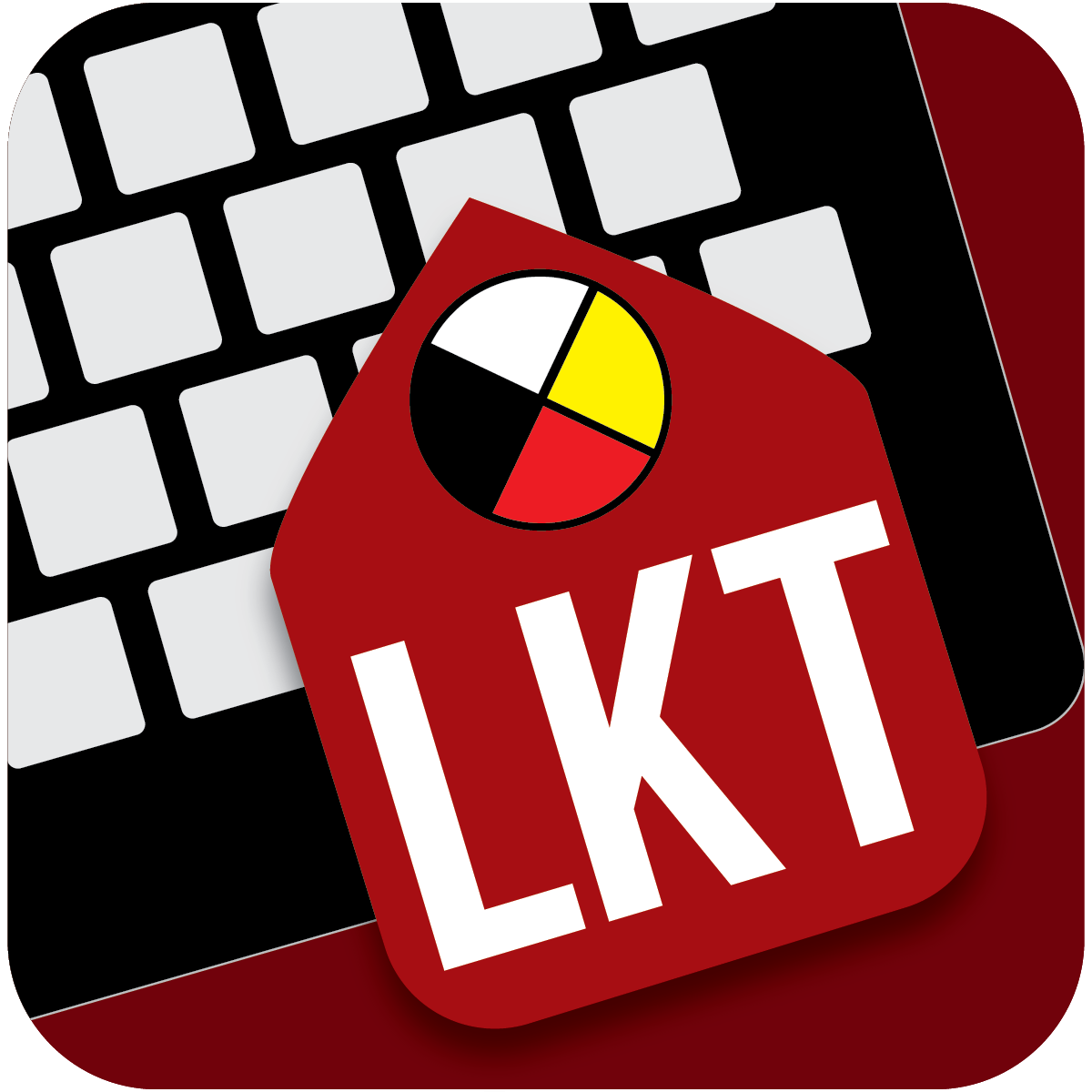 The Lakota language has unique characters that you may not find on your device keyboard. This free download allows you to add a Lakota keyboard to your desktop or mobile device. Once you've installed the corresponding keyboard you can type emails, texts, and create web content in Lakota using the unique characters. 
Lakota Keyboard is available for Mac (User Guide) or PC (User Guide) computers, or iOS and Android mobile devices.
The Lakota Berenstain Bears Project is a joint venture of the Standing Rock Sioux Tribe and the Lakota Language Consortium, with the goal of bringing the Lakota language to family television sets across all Lakota-speaking communities in North and South Dakota, and well beyond.
Produced and distributed with the permission of Berenstain Enterprises, Inc., Nelvana Limited and PBS (Public Broadcasting System), this 20-episode Lakota language edition of the Berenstain Bears is a first of its kind – the first Native American language cartoon series EVER.
Voices of the characters are all from the Lakota-speaking Standing Rock, Cheyenne River, Pine Ridge, and Rosebud communities of North and South Dakota, and reflect all local dialects of the language.
Perfect for the classroom, a teacher's guide is also available.
Watch the entire series on the LLC Youtube, or order the DVD from the LLC Store.
Rising Voices/Hótȟaŋiŋpi is a one-hour documentary about how languages die – and how speaking them again can spark cultural and community restoration. The film focuses on the Lakota (often called "Sioux") language and culture, the history that forced the language towards near extinction, and the challenges Lakota face today as they struggle to learn their ancestral language and teach it to their children.
Wičháho Blihélya is a podcast in the Lakota Language hosted by Alex FireThunder and Robert Two Crow. Bridging the gap between their generations, and between first and second language Lakota speakers, they explore various topics pertaining to life in Lakota country in 2023.
Each episode also features other Lakota speakers weighing in on the topic, presenting the listener with a variety of perspectives and voices. This podcast is intended to serve three major purposes: language preservation via documentation of the Lakota language as it is spoken by Native speakers and elders, language revitalization via providing interesting and engaging content for language learners to listen to in low-anxiety environments and for teachers to use in classrooms, and finally language maintenance by providing Lakota speakers with a talk show to listen to in their first language.
Language revitalization depends on creating print, online, and app resources for learners.  If you are interested in learning more about our print, audio and video resources click here.