Learning Materials
Since 2004, LLC has been serving learners' needs by providing educational materials that improve Lakota instruction in schools and assist individuals in their study of the language. As a nonprofit, LLC's primary goal is to develop and distribute products that support effective language use. We offer professionally developed resources including picture books, textbooks, DVDs, audio series, classroom posters, coloring books, teacher's guides, and more. Read more about the resources that are available.
Visit the LLC Bookstore to browse our collection of learning materials.
The New Lakota Dictionary (NLD) is the largest, most comprehensive, and most reliable dictionary of the Lakota Language currently available. Also very user-friendly – it is designed specifically with the learner in mind; providing numerous innovative features that help learners find words and use them correctly. Features Include:
Over 41,000 entries (21,000 more than the first edition).
More than 50,000 example sentences, references, usage notes and collections.
25,000 entries that have not been previously documented in any other Lakota dictionary.
A consistent orthography that reliably reflects pronunciation.
Descriptions of word-stems with stem nests.
5,000 entries with new or enhanced content.
Upgraded system of abbreviations for verb categories, valency numbers and their derivational features.
Example sentences now include a refined use of commas, hyphens, and ages to reflect compounding, subordination and intonation.
A new grammar section that covers new discovers in Lakota morphology and syntax.
Over 400 native speakers involved in its development and review
Fun to use and explore
An excellent self-study investment
Available as desktop software for Windows and Mac, as well on mobile for iOS and Android.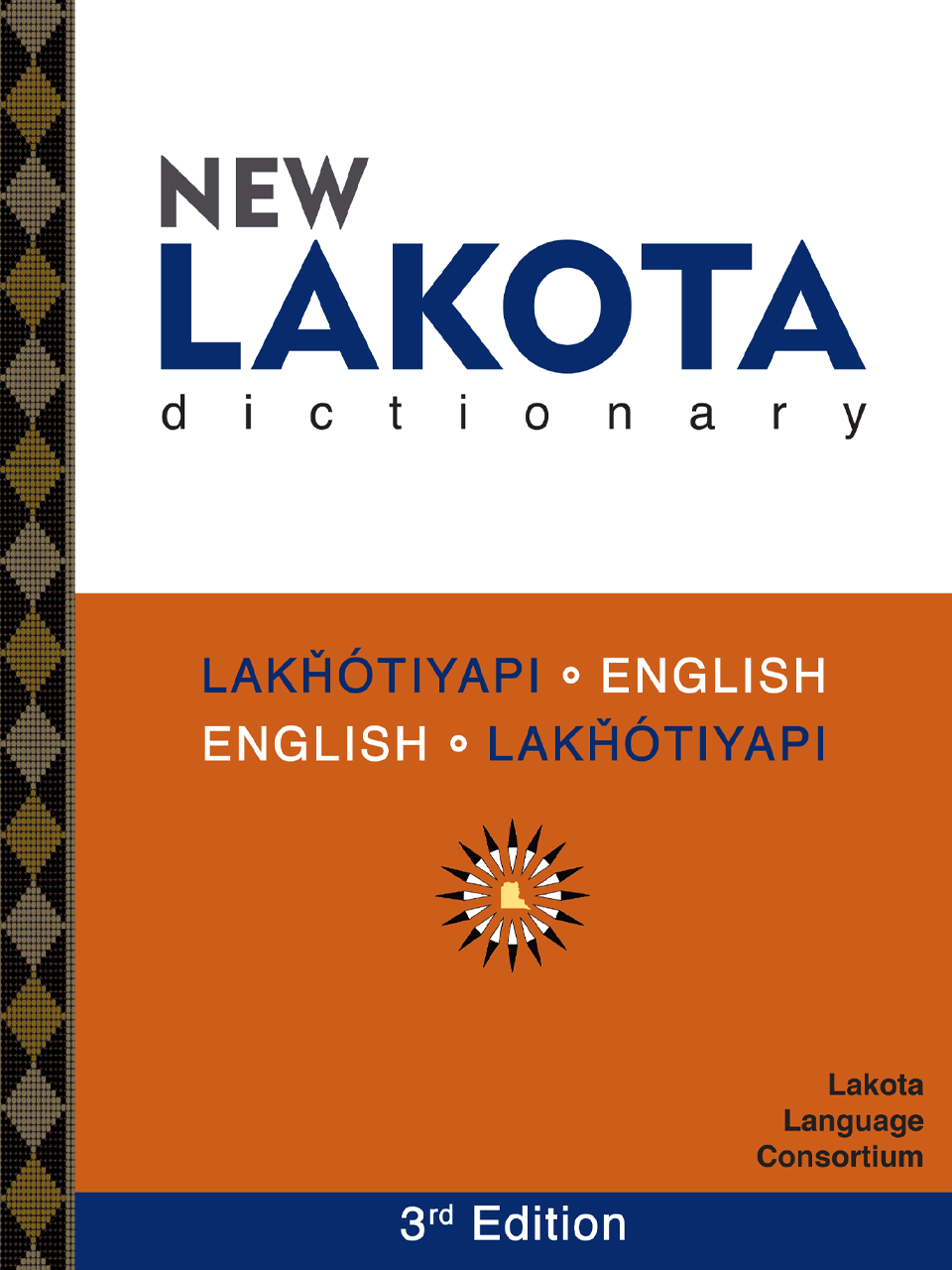 "The New Lakota Dictionary is a great, great improvement over all the other dictionaries. It has words that are in common usage today and it lays out all the different ways a word can be used. I write Lakota the way it is written in the Dictionary, and find that it's very easy to read"

– Ben Black Bear, Jr., Leading Lakota language scholar from the Sičháŋǧu Oyáŋke (Rosebud Nation)
This self study guide paired with the New Lakota Dictionary offers the most comprehensive documentation of the Lakota Language to date. This handbook is intended to increase grammar proficiency by linguistic researchers, Lakota language teachers and native speakers involved in educational activities. Sentences illustrate various areas of grammar from authentic narratives and dialogs recorded from of Lakota speakers providing a grammar and culturally rich guide.
2 books in 1: a self-study reference grammar and a grammar practice workbook
Nearly 19,000 sentences (7,309 example sentences and 11,663 practice sentences)
All sentences come from narratives and dialogs recorded from native speakers.
Descriptions of numerous grammatical constructions.
Offers revision of many previous grammatical descriptions
Packed with cultural content (e.g. how possessive verbs are used in prayers to evoke the relationship to the Creator)
Detailed index and additional discussions in the appendix
Includes an answer key for the exercises
Lakhótiya Wóglaka Po! – Speak Lakota! Level 1 – 5 Textbooks feature lessons designed to increase in comfort and helps learners achieve Lakota language proficiency as they work through these lessons. While these textbooks are designed for the classroom they are also beneficial for language learners at any age.
Are you an educator looking to teach Lakota in your school? We can help develop a program to best suit the needs of your school, with a variety of classroom materials including teaching guides and flashcards.
You'll find an extensive series of original picture books that help learners to establish basic vocabulary and reinforce their knowledge of the language. Complete with original illustrations and detailed glossaries, these picture books are a vital tool for beginners and advanced learners alike!
Visit the LLC bookstore to browse our full selection of original picture books!
Visit the LLC YouTube channel to hear Lakota speakers read selected books.
The Lakota Berenstain Bears Project is a joint venture of the Standing Rock Sioux Tribe and the Lakota Language Consortium, with the goal of bringing the Lakota language to family television sets across all Lakota-speaking communities in North and South Dakota, and well beyond.
Produced and distributed with the permission of Berenstain Enterprises, Inc., Nelvana Limited and PBS (Public Broadcasting System), this 20-episode Lakota language edition of the Berenstain Bears is a first of its kind – the first Native American language cartoon series EVER.
Voices of the characters are all from the Lakota-speaking Standing Rock, Cheyenne River, Pine Ridge, and Rosebud communities of North and South Dakota, and reflect all local dialects of the language.
Watch the entire series on the LLC Youtube, or order the DVD from the LLC Store.
Learn Lakota using this practical conversation course. This 10 CD set is a beginner's audio course in conversational Lakota.  Designed for the adult self-learner, the CDs will guide the listener through numerous dialogues and scenarios ranging from common greetings, kinship terms, kitchen and clothing items, commands, past/future and subject/object expressions.  Gain confidence in the language quickly and practically.
Get the course from the LLC Bookstore, or stream the series on Apple Music, Spotify, Amazon Music, or Youtube Music!
Children's Songs Collection
These collections feature Lakota children's songs including favorites such as: the Alphabet Song, BINGO, Days of the Week, Itsy Bitsy Spider, Twinkle Twinkle, and many more. Great for learning in the classroom and at home, you can find all three volumes in the LLC Bookstore.