Let Matȟó Waúŋšila Thiwáhe (the Compassionate Bear Family, a.k.a. the Berenstain Bears) help you with your Lakota language study while warming your heart.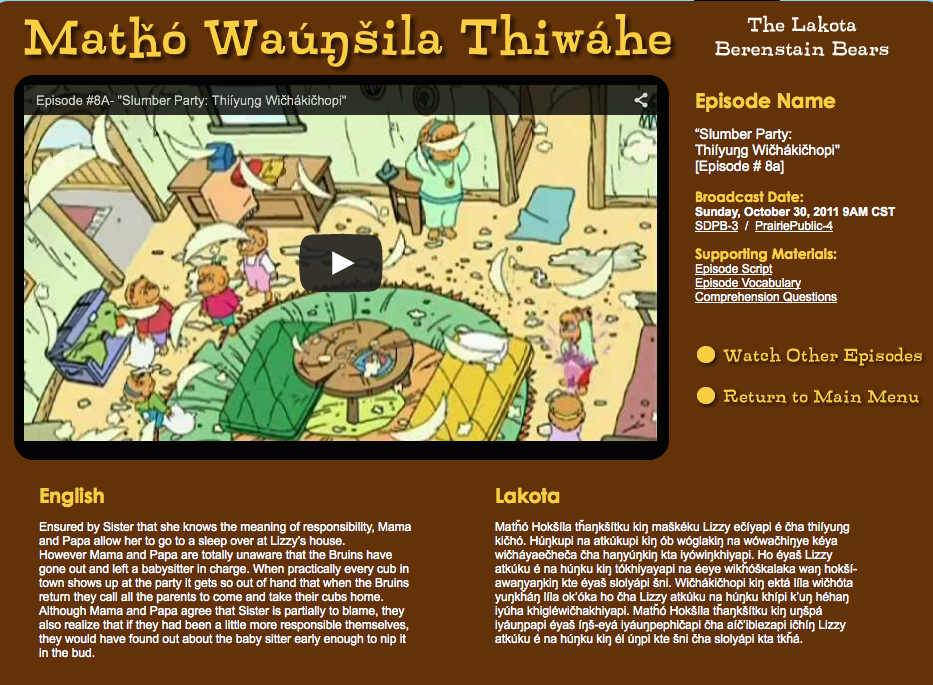 Ensured by Sister that she knows the meaning of responsibility, Mama and Papa allow her to go to a sleepover at Lizzy's house.
 However, Mama and Papa are totally unaware that the Bruins have gone out and left a babysitter in charge. When practically every cub in town shows up at the party it gets so out of hand that when the Bruins return they call all the parents to come and take their cubs home. Although Mama and Papa agree that Sister is partially to blame, they also realize that if they had been a little more responsible themselves, they would have found out about the baby sitter early enough to nip it in the bud.
Each Matȟó Waúŋšila Thiwáhe episode comes with free extras for download: a complete script in Lakota, a vocabulary sheet with English translations, and comprehension questions (in Lakota) to check your understanding of the action.
Matȟó Waúŋšila Thiwáhe is a co-production of the Standing Rock Sioux Tribe, Lakota Language Consortium, Berenstain Enterprises and Nelvana Limited. Episodes were first broadcast in 2011 on Prairie Public Television.