Háŋ mitákuyepi,
We are back with another great opportunity to learn Lakota – this time in Rapid City!
The 3rd edition of the Lakota Language Weekend will be held at the Hilton Garden Inn in Rapid City on April 2-3.
Last week, the LLC released a public announcement that there only 2,000 first-language Lakota speakers remain – a devastating 66% decrease in 10 years (Read the full press release here).
Now, more than ever, is the time to begin learning Lakota, to encourage and uplift others who are learning, and to meet people who are working hard to preserve and teach the language.
Join us in Rapid City for a full two-day workshop with classes for beginners, intermediate learners and fluent speakers (schedule to be announced soon). 
We have reserved 20 rooms at the Hilton Garden Inn for a special price of $94/night, but Rapid City has many booking options (like the fun La Quinta, across the street).
If you would like to book a room at the Hilton Garden Inn, you can call the front desk (605) 791-9000 and mention that you are with the Lakota Language Consortium block.
Check out the flyer below for more information and join the Facebook event page for the latest updates. Registration for the event is a non-refundable fee of $20; you can register at this link.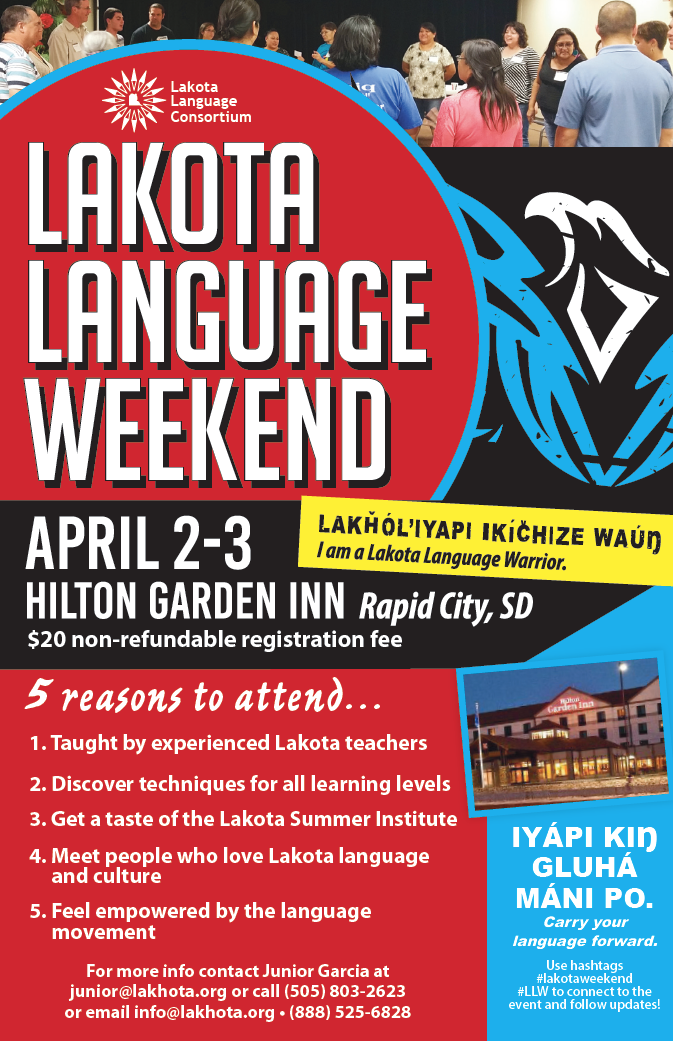 UPDATE (March 15): 
Exciting news – as part of this language weekend, we will have a Lakota Magic Show by magician Reuben Fast Horse! The show will be held in the same room as the language workshop on Saturday, April 2 at 8:30 PM
Check out this Bonus Video from Rising Voices/ Hótȟaŋiŋpi to learn more about Reuben: