Aŋpétu kiŋ lé okó ičínuŋpa kiŋ iháŋke kštó.
This week, LSI participants explored the richness of Lakȟótiyapi with courses like Intensive Lakota/Dakota for Elementary II, Neologism Development, Voice Performance & Audio Materials Development, Immersion Methods, Lakota/Dakota Inflectional Morphology II, and others! We caught up with some of our participants to see what they had to say about week 2.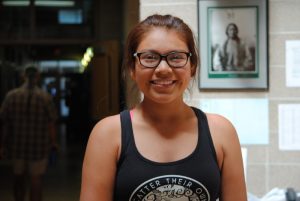 Winona ("Nona") Gayton – This is Winona's second year taking classes at LSI, but she's been hanging around the Institute since 2014. "My dad first brought me here, since he teaches. And after I saw how the Institute was set up, I wanted to come be a part of it."
When we asked her what exactly drew her to the Institute, Winona said, "I like that the teachers understand that the language is such a high priority in our communities. I also like that everyone here is like family – we all know each other and look forward to seeing each other every year."
And Nona's favorite classes? Lakota Morphology and Lakota Grammar.
"The classes are challenging for me, so I am able to learn a lot from them. Datives, conditional clauses…it all sounds really scary, but it's actually fun learning it!"
We're looking forward to seeing this motivated 9th grader next year!
---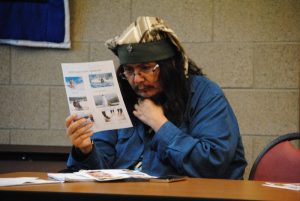 Don Grey Day – Don teaches Tribal Culture at Selfridge Public Schools (K-12), and incorporates Lakȟótiyapi into his teaching. He's been coming to LSI since 2013 to learn effective teaching methods and to be around fluent speakers.
This week Don took Immersion Methods with François Fouquerel, "What I like most about it is that I am a second language learner and I am in a class with fluent speakers. I get to sit amongst them and take it all in."
As it turns out, Don's favorite part about LSI is similar to Winona's – "The main thing I like is that I have established relationships with people here. I also like meeting new people, who are just starting to learn and are anxious, scared and excited all in one. I like encouraging the beginners. Never tell anybody that learning your own language is not useful!"
---
Social Highlight – Humor The Ruse & Scatter Their Own at LSI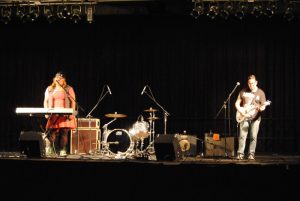 The social highlight for this week was a performance by Humor the Ruse (top left) and Scatter Their Own (bottom left) in honor of LSI's 10th Anniversary.
Humor The Ruse is a musical duo from Standing Rock. Members Bubbsy Luger and Charli Fool Bear blew the audience away with their musical talent and by singing in Lakota! Stay tuned to hear one of their songs – we'll be posting a video on the LLC Facebook page.
Scatter Their Own is an Alter-Native rock duo from of Oglala Lakota ancestry from the Badlands of South Dakota. A real family effort, the duo Scotti Clifford (Guitarist and Vocalist) and Juliana Brown Eyes-Clifford (Bassist and Vocalist), are actually joined by Scotti's teenage children – Welby June (16) on guitar and Wahpe Waste Win (14) on drums.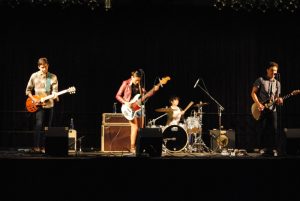 The group shared why they were excited to play at LSI:
"We are a Lakota family. For us, it is all about relationships. The more fire that we can share as a world community, the stronger our unity. The more language we can build within our own culture, and even outside our own culture, the better. The heartbeat of our culture is the language, and that's why this is important to us."
We encourage you to follow all of our LSI 2016 updates on our Facebook  and Twitter pages. Stay tuned for week 3 wrap-up and more interviews with participants!