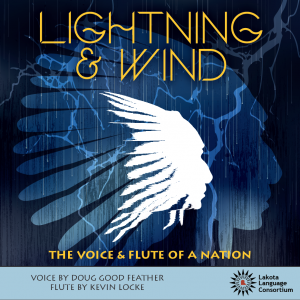 Did you know that April is National Poetry Month? This holiday was first introduced 20 years ago by the Academy of American Poets to raise awareness and appreciation of poetry in the United States. To highlight this holiday, we wanted to shine a spotlight on Lightning  & Wind –  what better way to acknowledge the importance of poetry than through beautiful Lakota traditional songs?  This album celebrates love in all its joys and woes through a genre of song called wiílowaŋ ("serenades" or "songs of women"). Lightning & Wind brings together archival recordings of some of the last keepers of these songs with masterful flute work by Kevin Locke and contemporary vocals by Douglas Good Feather.
Wiílowaŋ flourished in the context of the pre-reservation social structure in which the genders were separated upon adolescence in order that they could concentrate on mastering all of the traditional subsistence skills required. Once these skills were mastered, the young men and women were eligible for marriage. Wiílowaŋ in both vocal and instrumental forms developed as a means of bridging the inter gender communication gap. At one time wiílowaŋ were commonplace and everyone was familiar with this genre, so much so that a specialized vocabulary arose to describe the subtle nuances expressed: wióište olówaŋ (embarrasment song), wikúŋ olówaŋ (coveting song), wióyuspa olówaŋ (capturing song), wiínaȟma olówaŋ (secretive song), and so on. The full range of human emotions, tragedy and humor are portrayed through the medium of wiílowaŋ.
These songs originate from the Elk Dreamer Society. This group was responsible for making songs for people who needed to say something in music and dance. They also made flutes, and put on feasts and dance performances to keep the music flowing and developing throughout the culture. When the Elk appeared in your dreams, that was the sign that your gift to the people would be music and dance.
Serenading songs follow a formula, like a haiku. The opening phrase is repeated three times at the beginning – an incomplete thought, something that gets the listener wondering what this is about. Then the next phrase gives substance and illuminates the meaning of the first phrase. The first part of the song is structurally quite different from the second part.  It changes substantively unlike any other genre of indigenous music.
Below we have included lyrics, in Lakota and English, to the ninth song on the album – Tȟéhaŋ Níŋ Kte "You are going to go far away". Follow along by reading the lyrics and listening to the song on YouTube.
Tȟéhaŋ Níŋ Kte

Tȟéhaŋ níŋ kte.

Iyókiphi-mayayiŋ naháŋ tȟéhaŋ níŋ kte.

Makȟá tȟéhaŋ yaúŋ kte so?

Apȟé čhiúŋ kte.

—

You are going to go far away.

You made me happy and now you are going far away.

Are you going to stay in a distant land?

I will wait for you.
Even though the social context giving rise to wiílowaŋ disappeared during the early reservation period its entertainment value persevered well into the 20th century. The album is available for download on CD Baby and you can stream it in full on YouTube: