Download the New Lakota Dictionary Pro for Windows PC
The Windows PC version is 551MB and was last updated  05/24/2018
Installation guide for windows
About the New Lakota Dictionary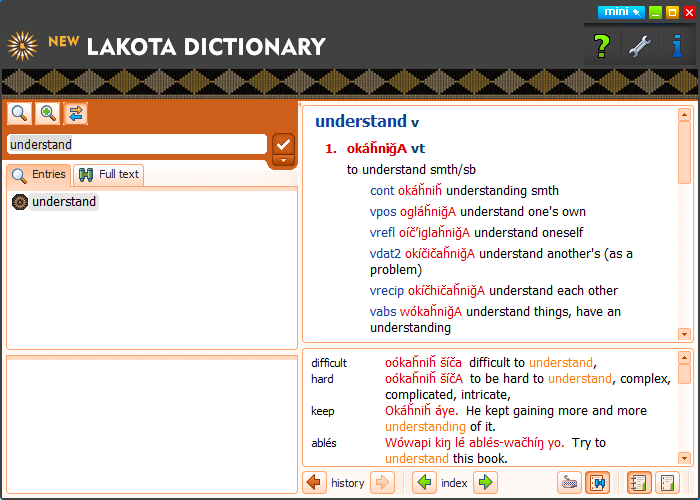 The New Lakota Dictionary (NLD) App is the best way to look up Lakota words, hear pronunciation, and view thousands of example sentences. It's the ultimate electronic Lakota learning and reference tool.
• 27,000 entries
• 53,000 sentences
• Male and female voices for audio
• Consistent phonemic spelling – Standard Lakota Orthography
• Superior cross-referencing capabilities
• Faster and more responsive than online versions
• Works offline, without active data connection
• Built-In lemmatizer searches for conjugated verbs and word forms
• Over 400 native speakers involved in its development and review
• Regularly updated
• Accurate and reliable
• Fun to use and explore
• An excellent self-study investment
"The lemmatizer is one of the biggest advantages of the app when compared to the printed version of the NLD. Lakota is a highly agglutinating language. Affixes are added to words all the time, so unless you know the stem of the word with affixes, you won't be able to find it in the dictionary. The app does that for you. If you type in e.g. waŋwíčhablake the app will show you the entry waŋyáŋkA."
How to Update your New Lakota Dictionary for PC
If you have a previous version of the New Lakota Dictionary, you will need to uninstall the application completely AND remove the extra files left over in your Windows registry and in your Program Files folder. Here's a step-by-step guide on how to do this:
Uninstall your old version



Windows 7 – How to properly uninstall programs




Applies to: Windows 7 Home Basic, Windows 7 Home Premium, Windows 7 Professional, and Windows 7 Ultimate Less





Windows 10 – Repair or remove programs in Windows 10

Delete folder Lakota from C:\Program Files (x86)\Lingea (or custom path if it differs from default)
Remove all extra files left over on your PC in the Windows Registry
Download and Install CCleaner – This program will allow you to remove registry entries for programs that are no longer installed on your machine. This will improve the performance of your machine.
Still have questions, comments, or concerns?
If you need further assistance in installing your Windows PC application or troubleshooting issues, please contact us.