New Lakota Dictionary Pro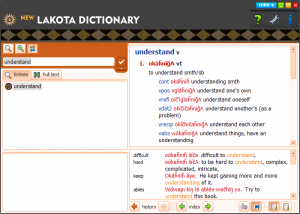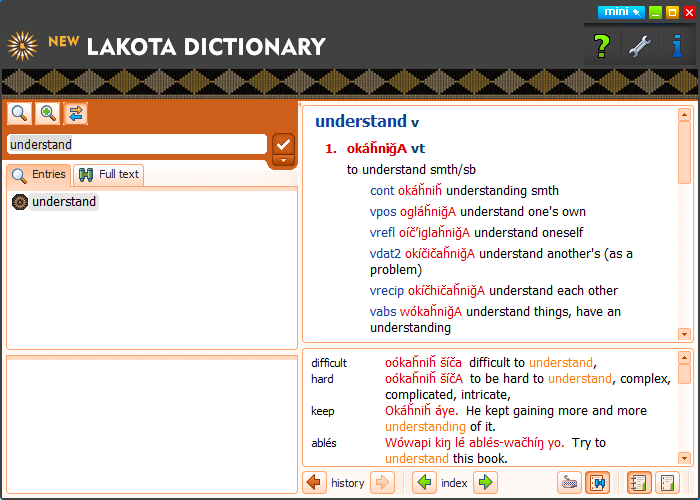 The New Lakota Dictionary (NLD) Mobile App is the best way to look up Lakota words, hear pronunciation, and view thousands of example sentences while on the go. It's the ultimate electronic Lakota learning and reference tool.
• 27,000 entries
• 53,000 sentences
• Male and female voices for audio
• Consistent phonemic spelling – Standard Lakota Orthography
• Superior cross-referencing capabilities
• Faster and more responsive than online versions
• Works offline, without active data connection
• Built-In lemmatizer searches for conjugated verbs and word forms
• Over 400 native speakers involved in its development and review
• Regularly updated
• Accurate and reliable
• Fun to use and explore
• An excellent self-study investment
"The lemmatizer is one of the biggest advantages of the app when compared to the printed version of the NLD. Lakota is a highly agglutinating language. Affixes are added to words all the time, so unless you know the stem of the word with affixes, you won't be able to find it in the dictionary. The app does that for you. If you type in e.g. waŋwíčhablake the app will show you the entry waŋyáŋkA."
The Windows PC version was last updated  05/24/2018
Download the New Lakota Dictionary Pro for Windows PC (551 MB)
The Mac OSx version was last updated: 04/20/2018
Update your previously activated version of the dictionary by installing as normal using the file below.
New Lakota Dictionary Pro for Mac OS X (575 MB)
Special Instructions for OSX Sierra
To continue using the NLD-Pro after your 30-day free trial, you can purchase a license key at the LLC Bookstore.
---
Lakota Keyboard Layout and Fonts Bundle v.3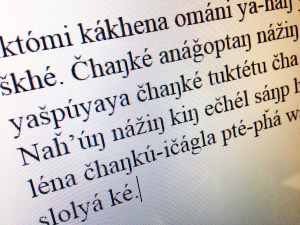 In order to type Lakota correctly on your computer, you will need to download and install the Lakota keyboard layout. This only needs to be done once on your machine – after that, you can switch between the English and Lakota keyboard layouts. With the Lakota layout turned on, you can use redundant English keys on your computer keyboard to type the unique Lakota letters.
Last updated: 10/23/2015
Lakota Keyboard Layout and Fonts Bundle v.3 for Windows PC (EXE, 28 MB)
User Guide for Windows PC version (PDF, 1.1 MB)
Lakota Keyboard Layout and Fonts Bundle v.3 for Mac OS X  (PKG, 38 MB)
User Guide for Mac OS X version (PDF, 1.3 MB)
---
Teacher's Guides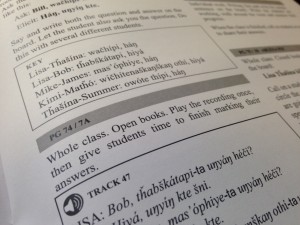 These Teacher's Guides help language teachers get most out of the Lakȟótiya Wóglaka Po! textbook series. An overview of each textbook unit is given, followed by step-by-step instructions for modelling the language and ideas for activities and games that will reinforce the material for students. Careful use of the Teacher's Guides makes classroom time more effective – and the teacher's job easier!
Level 1 Teacher's Guide (PDF, 1.8 MB)
Level 2 Teacher's Guide (PDF, 0.7 MB)
Level 2 Word Find Solutions (PDF, .2MB)
Level 3 Teacher's Guide (PDF, 1.5 MB)
Level 4 Teacher's Guide (PDF, 4.5 MB)
---
Classroom resources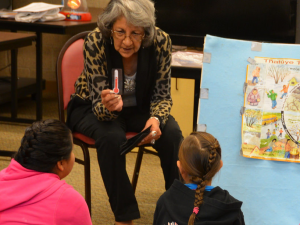 These alphabet flashcards can be used to teach the sounds and spelling of the language. Flashcard activities are lively and retain children's attention for a much longer time than working with a textbook alone.
Lakota alphabet flashcards (PDF, 0.04 MB)
You can also download a list of basic instructions teachers can use with children in the classroom. It is important to use as little English in the classroom as possible. Classroom instructions will be easily picked up by children if they hear them regularly.
Classroom instructions (PDF, 0.06 MB)
---
---